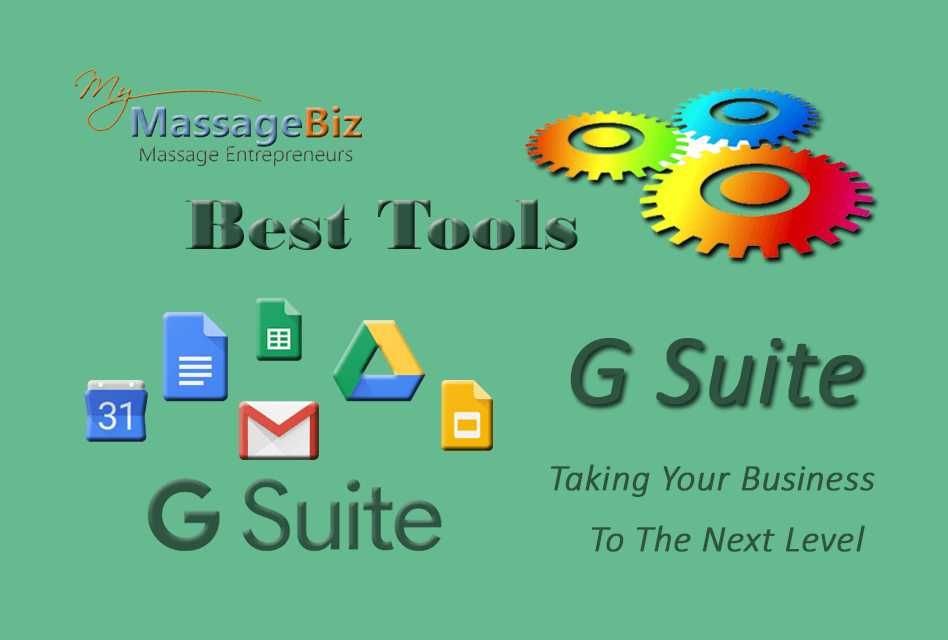 Best Massage Business Tools: G Suite
G Suite from Google is a suite of cloud-based tools that give you the ability to function and communicate as a professional business. One example of how it can help your 'Brand' awareness is that it allows you to use your own domain, so emails come from @yourmassagebiz.com instead of @gmail.com. It includes all the powerful apps from Google that we have been using for years, such as, Google Calendar, Google Drive, Hangouts and many others. What makes G Suite different is that everything comes together under your business. This is why I consider this installment of MyMassageBiz.com's Best Massage Business Tools: G Suite to be essential for the success of your practice.
Giving your business that professional look!
For those who know me or have been following me for a while, you know how I put a lot of emphasis on the importance of professionalism as it relates to your overall chances of success. How your clients and potential customers perceive you can have an enormous affect on your ability to make a good living in this profession. Small things matter when it comes to how you are seen by your clients. Sending an email, returning a text, or providing an invoice are just some of the ways you interact with your customer. When your correspondence is professional, it takes your practice to another level that demonstrates to your clients how serious you are about your business. This builds their confidence, trust, and loyalty in your you and your brand. G Suite is the tool that helps you accomplish this goal.
Quick List of Features
Best Massage Business Tools: G Suite
Why is it important to have G Suite?
     Use your business domain for your email.
    Connect your Google Voice business phone. 
    Connect your Google+ business page.
    Use Google Hangouts to connect with your clients.
    Use Google Calendar to keep track of the important stuff.
    Use Google Docs, Sheets, Forms, and Slides.
    Everything you need, anytime, anywhere, with Google Drive.
    Set up multiple email aliases for Gmail. 
Feature Highlights
Best Massage Business Tools: G Suite
Pricing
You can try G Suite for free for the first 30 days. After the trial period, it costs $5 per month.
Sign up for your free trial at:  https://mymassagebiz.com/GSuite. 
    If you decide to continue your account after the free trial, you can use the MyMassageBiz.com  coupon code: 7LRFVGTGUDUG9D and save an additional 20%.
Setting Up G Suite
It's not difficult to set up G Suite. Use the link above to sign up for your account, and then Google will walk you through the steps to get things going.
   Make sure you have your domain for your business before you start your G Suite sign up. If you need to get your domain, you can find out how by reading my article below or click here  to go directly to Bluehost. 
BEST MASSAGE BUSINESS TOOLS: G SUITE
Save 20%
Use MyMassageBiz.com coupon code:
7LRFVGTGUDUG9D 
Sign up for your free trial at 
 https://mymassagebiz.com/GSuite
First 30-days free
$5 per month ($4 with coupon code)
Best Massage Business Tools: G Suite
Conclusion: 
G Suite (used to be called Google Apps for Work) has been another tool that I have used for many years and I can't imagine running a business without it. The most powerful aspect of using this suite of apps is that it brings everything under your 'Brand' and allows you to communicate more professionally with your clients and prospective customers. The $5 per month cost ($4 with my coupon code) is a reasonable investment considering what it does for you. Taking your business to the next level will increase your chances of success with an added professionalism and confidence perceived by your clients. 
I hope you found this article helpful. Please, leave a comment below and let me know what you think of G Suite. If you want to spread the word, please, share this article on Facebook and Twitter, or you can pin the image on the right to your Pinterest board. I wish you success and prosperity.