Best Massage Business Tools: MassageBook
Every so often in business someone creates a tool that changes everything. MassageBook is one of those tools. I know this is a bold statement, but as a practicing massage therapist for over 25 years and as a clinic owner for 16 of those, I have been frustrated by the choices out there for booking programs. I have used many including some of the top names like Orchid and Booker. While these programs have their positive aspects, they never quite fit the needs of my massage businesses. MassageBook, however, offers an amazing scheduling program along with very useful client database and marketing tools. This is why I consider this installment of MyMassageBiz.com's Best Massage Business Tools: MassageBook to be essential for the success of your practice.
Mark Folkmann and his MassageBook to the rescue!
Who better to create an awesome massage booking tool than a massage therapist?  Before creating Massagebook, Mark built a successful massage practice. This, along with a degree in business and the experience of founding and running Massagewarehouse, gave him the ability to create the best tool in the profession today to help therapists build their successful practices.
If you haven't chosen your booking software program yet, go no further. MassageBook is the best. If you're using another program currently, you really should consider switching to Massagebook. I have no affiliation with Mark or his company. I am just blown away by what he has created. This tool can help you build your successful practice in so many ways I can't cover them all in this article. But I'll do my best:
First, I love MassageBook's mission statement. Take a minute to read it. It's awesome!
Massagebook Mission Statement
Becoming a successful bodyworker in today's world takes much more than just great technique. The problem is that while the world could benefit from more skilled bodywork, too many talented individuals who are passionate about helping their clients are failing to make a living doing what they love. While data shows a large number of massage, reflexology and esthetician school students graduating each year, precious few are able to make the leap to building their own successful businesses. The rapid growth of massage franchises has helped many stay employed in their chosen field and has demonstrated the growing public demand for professional massage and bodywork. The rapid corporatization of bodywork services is, however, making the individual dream of operating a small independent practice more difficult to achieve. To compete effectively for bodywork clients, small practice owners need professional tools to help them attract and retain customers and manage their businesses. MassageBook is a solution for the courageous independent bodyworker who needs to compete effectively with those businesses that have more money business experience and resources than they do. We are committed to helping independent bodyworkers build thriving businesses. Our mission is to find bodyworkers who want to call their own shots , teach them how to grow the practice of their dreams, provide them with the software tools they need, and then let them focus on doing what they love – helping people feel better. We believe that passionate, talented bodyworkers who love what they do will spread happiness and good throughout the world. Our mission is to make sure that happens. If you're talented and passionate about bodywork, and could use a little help growing an independent business, we sure would love for you to join us.
Best Massage Business Tools: MassageBook
Quick List of Features
Scheduling
Easy to use
Online scheduling
Client database
Use phone or tablet
Out-call booking
Manage availability
Appointment reminders
Marketing
Website listing
Business profile
Facebook integration
Email marketing
MassageBook referrals
SEO optimization: Get found on Google
Additional Features
Credit card Payments
Gift certificates
Intake forms
Soap notes
Client reviews
Product sales
Feature Highlights
Best Massage Business Tools: MassageBook
Best Massage Business Tools: MassageBook
Setting Up MassageBook
One of the things that always frustrates me is when someone creates a software program or app but does a poor job of explaining how to set it up and get it to work. I end up spending hours trying to figure it out so I can get it to do what they said it would do. MassageBook is not one of these companies.
MassageBook does a fantastic job of walking you through the initial set up of their software with prompts and a check-off list that helps you get everything you need up and running in minutes. Then they provide great support moving forward with how-to articles and videos to help you master each feature of their software.
Massagebook Dashboard with Set-up Prompts
Support Articles and How-to Videos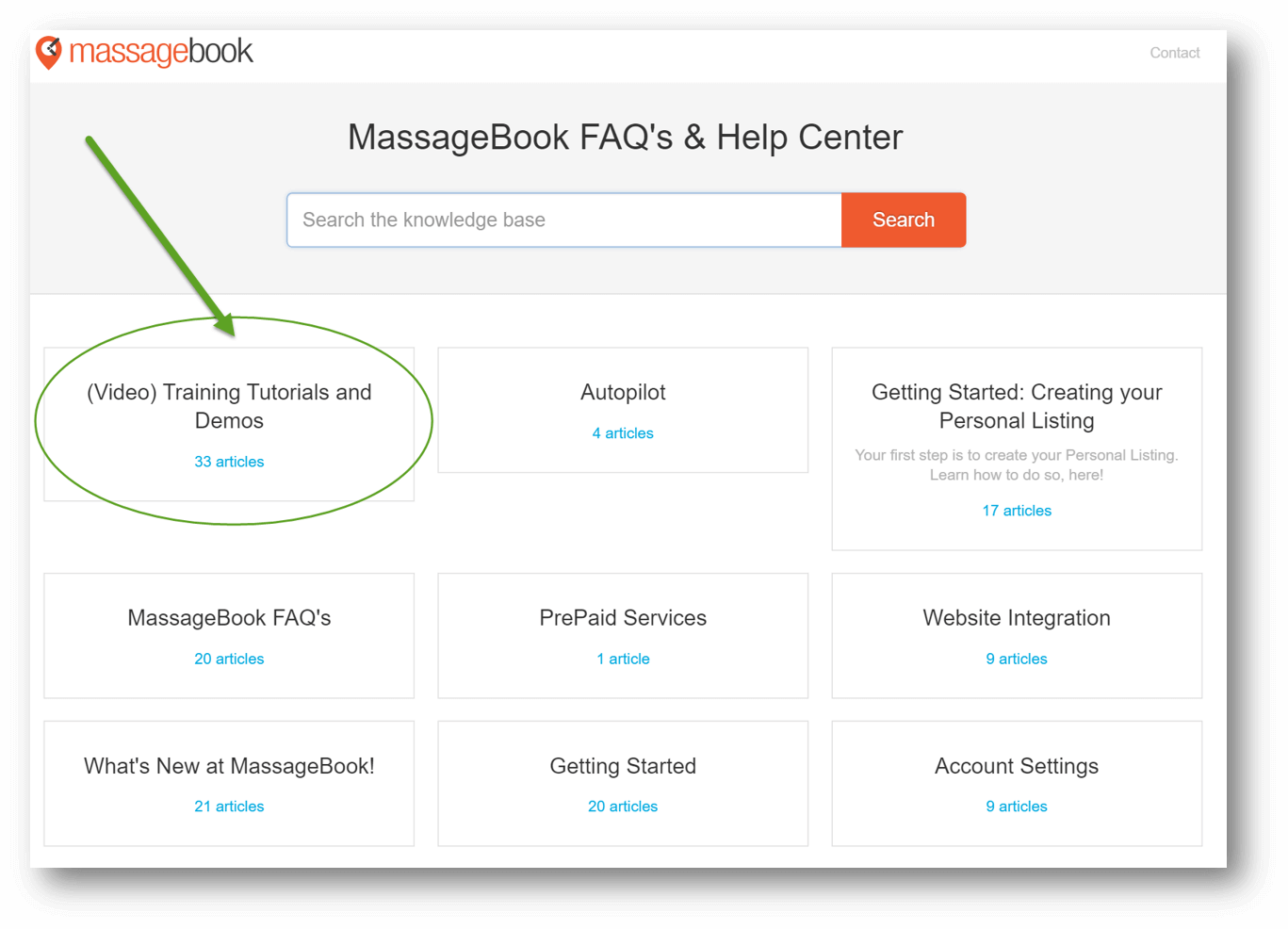 Pricing
In the past you had two choices. Use an inexpensive booking program that has limited features or use one that has most of what you need but costs an arm and a leg.
One of the most impressive things about MassageBook is that not only does it have virtually every feature that you have ever wanted or needed to run your practice, but it costs a fraction of what the others charge.
You can get started for free!
MassageBook's basic plan is totally free. While it doesn't give you access to all their great features, the free version is really good and may be all you need.
Even if you go with MassageBook's top plan, it's only $24.99 per month. This is an amazing price and is much less than many programs out there with half the features.
   Attention ABMP Members: If you are a member of Associated Bodywork & Massage Professionals, MassageBook gives you a discount. You get more features with the free plan and you save $70 to $80 per year on the top tier plans. Their best plan is only $18 per month if you are a ABMP member.
Best Massage Business Tools: MassageBook
Best Massage Business Tools: MassageBook
Conclusion:
Does it surprise you that a massage therapist created this amazing tool? I've been waiting for years for a great scheduling program. Mark Volkmann and his team have accomplished this and so much more. MassageBook is truly a complete Massage Practice Management and Business Building Tool. I highly recommend taking it for a spin. You won't be disappointed.
I hope you found this article helpful. Please, leave a comment below, and let me know what you think of MassageBook. If you want to spread the word, please share this article on Facebook and Twitter, or you can pin the image on the right to your Pinterest board. I wish you success and prosperity.